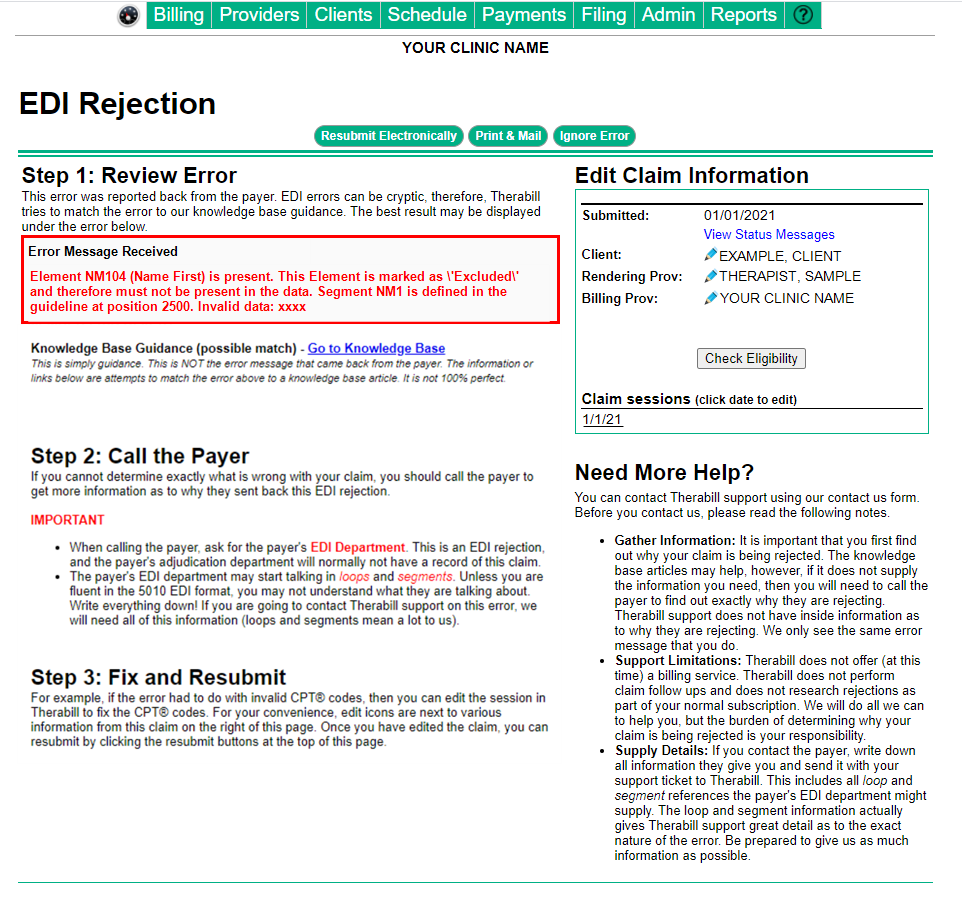 This error occurs on Medicare claims for one of the following reasons:
The Insured demographic information does not list

SELF

as the Relationship to Patient. When Medicare is the payer, the insured party must always be 'SELF.

On a home visit claim, the patient's address is in box 32 when the claim is being submitted.
Error Variations
Element NM102 (Entity Type Qualifier) does not contain a valid identification code: \'1\' is not allowed. Segment NM1 is defined in the guideline at position 2500. Invalid data: 1
Element NM103 (Name Last or Organization Name) is missing. This Element\'s user option is \'Must Use\'. Segment NM1 is defined in the guideline at position 0150.
To Resolve
Medicare Rejections
You'll need to review and/or correct the patient's Insurance Payer information. Follow the steps below to update in WebPT EMR or Therabill.
WebPT
Follow the steps below to correct the Insurance Payer relationship information in WebPT EMR.
Use your preferred method to access the

patient chart

in WebPT EMR.

Click

Patient Info from the current case tab.


From the Insurance tab, click

edit on the Medicare Insurance.


Confirm the Medicare Insurance is selected, then click

Next.


On the Policy Information window change the

Insured Party

using the drop-down to

Self

. Then click

Next.


Click

Next

on the Prior Existing Treatment window.

Click

Ok

on the Guarantor Information.

Click

Save Patient

on the bottom right of the chart.
Non-Medicare Rejections
Therabill
If the rejection occurs for Non-Medicare Insurance, follow the steps below to update Box 32.
From the

Billing

menu, click

Insurance List.


Find the Insurance Payer then click

Info & Settings.


Uncheck the box,

Use patient/client address in Box 32 for home-based sessions.


Click

Save Changes

.
Resubmit Claim
Once the appropriate corrections have been made in WebPT or Therabill you will need to resubmit the claim.
Resubmit the claim from the EDI rejection page by clicking

Resubmit Electronically.


Click

Submit in the green highlighted box.