This article dives into the specifics of Loop 2000A and assumes that you know how to read an EDI (837) file. If you are looking for a general outline of an EDI and how to read the basic structure, please see: How to read an EDI (837) File - Overview.
We will be using the following sample EDI file to break down this loop.
Loop 2400 - Service Line Information
Segment LX - Line
Example: LX*1~
Element 01 = Line Number (1)
Segment SV1 (SV5 for DME) - Service
Example: SV1*HC:97010:GP::::LINE NOTE*150.00*UN*1***1:2~
Element 01-1 = Hardcoded to HC for Standard CPT Code

Element 01-2 = CPT Code (97010) Box 24d CPT
Element 01-(3-6) = Modifier (GP) Box 24d Modifier
Element 01-7 = Description/Line Note (LINE NOTE) Box 24 Shaded
Element 02 = Charge Amount ($150) Box 24f

Element 03 = Basis for Measurement (UN)

Element 04 = Quantity (1) Box 24g

Element 05 = Facility Code

Element 07-(1-4) = Diagnosis Code Pointer (1,2) Box 24e
Segment DTP - Date
Example: DTP*472*D8*20180629~
Element 01 = Hardcoded to 472 for Date of Service

Element 02 = Hardcoded to D8

Element 03 = Service Date YYYYMMDD (2018/06/29) Box 24a
Segment REF - Reference
Example: REF*6R*1120087~
Element 01 = Reference ID Qualifier - Hardcoded to 6R

Element 02 = Reference ID (1120087)

Unique number used for ERA matching
Segment NTE - Note
Example: NTE*ADD*CORRECTED CLAIM~
Element 01 = Reference Code (Add)
Element 02 = Note Text (Corrected Claim)
Segment SE - Transaction Set Trailer
Example: SE*38*18434718~
Element 01 = Segment Count (38)

Element 02 = Set Control Number
Section 24 - Service Lines
What is it?
Section 24 is used to list the completed services for the claim. The 6 service lines have been divided horizontally. The shaded area of each line between 24A and 24G is the location for reporting supplemental information. A Line Note is required when a CPT code is considered non-specific or does not definitively describe the service/supply.
In Application:
To manually enter information into Box 24 Shaded:
Navigate to Billing > Bill Insurance.
Use Select Client to choose the desired client.
Locate the session and select the corresponding icon.

If there are multiple codes, edit the specific code using the icon.

Enter the information into the Line Note field.

If there are multiple codes, enter the information and select Save.

Select Save & Done.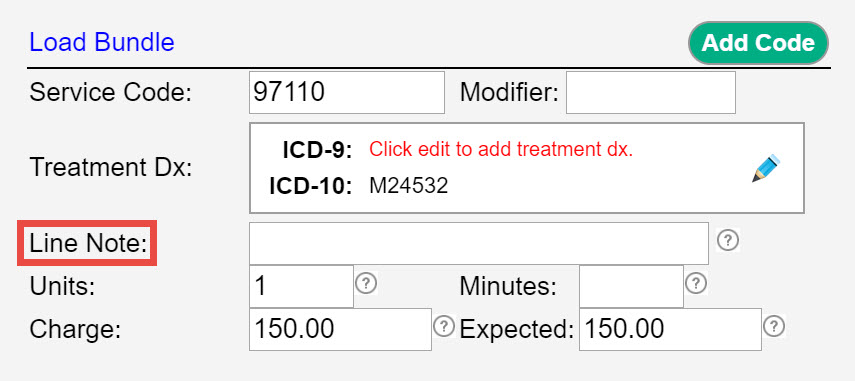 EDI File
Loop 2400, Segment SV101-7
Box 24a-j
For more information on each field of Section 24, please see:
Box 24a - Date(s) of Service
Box 24b - Place of Service
Box 24c - EMG
Box 24d - Procedures, Services, or Supplies
Box 24e - Diagnosis Pointer
Box 24f - $ Charges
Box 24g - Days or Units
Box 24h - EPSDT/Family Plan
Box 24i - ID Qualifier
Box 24j - Rendering Provider